Jiu Jitsu Classes New Braunfels
For more information on our classes, contact us today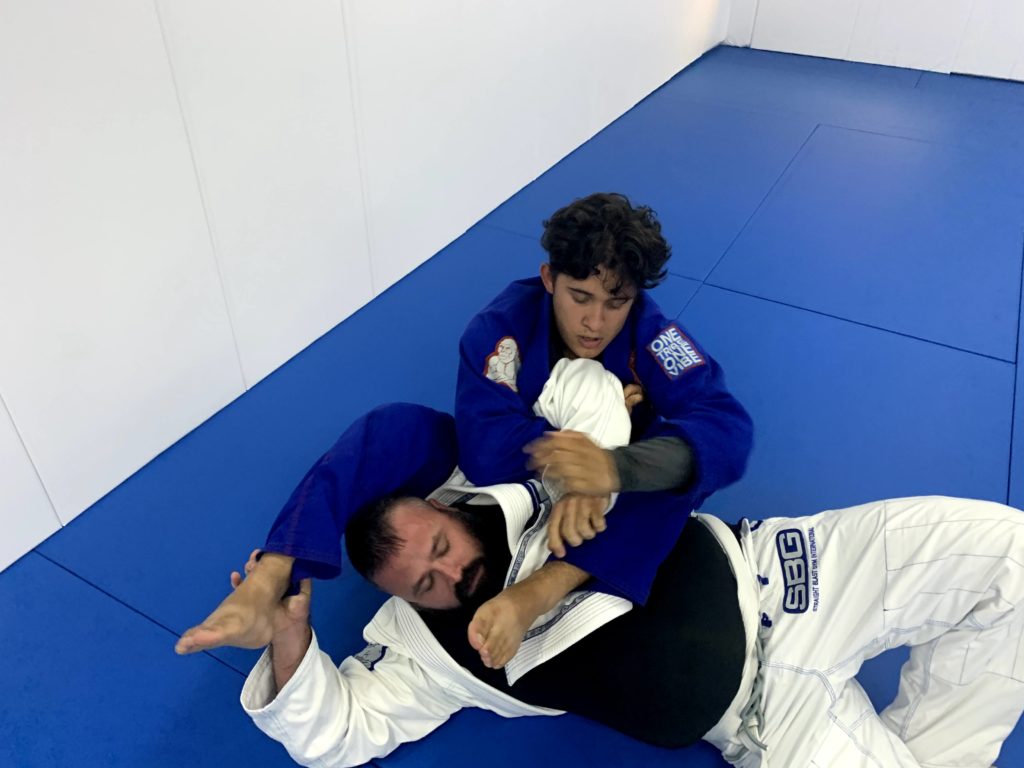 Come find out why Brazilian Jiu Jitsu has become a worldwide phenomenon:
A proven self-defense record for dealing with people bigger and more athletic.
A proven competitive record on the world stage of professional fighting.
Safe training methods for people of all ages and backgrounds.
An engaging game of movement that builds all the same critical thinking skills that chess does.
Incredible fitness outcomes ranging from increased mobility and flexibility to strength and conditioning.
Builds real confidence by overcoming direct challenges in a demonstrable manner.
Why is SBG Jiu-jitsu right for you?
Our programs emphasize using Brazilian Jiu Jitsu to give people functional self-defense skills, incredible health benefits, and intellectual stimulation.
Every class is a part of a larger curriculum with goals both on the mat and off the mat. Our techniques are based on principles of physics and anatomy so that people of any background can utilize them and test their effectiveness in an environment of adaptive resistance.
SBG Jiu Jitsu has distinguished itself in the world of professional fighting due to its culture of personalized resistance. With proper coaching we guide people to be able to feel safe while testing functional self-defense techniques so that resistance adapts to what people are capable of handling. No one gets thrown to the sharks in our gyms as we ensure that people get the maximum comfort and resistance that they need to grow.
Every Body Friendly Classes:
Jiu Jitsu at SBG does not require a certain level of speed, strength or flexibility, because nothing we do is based on being more athletic than other people. We believe that everything begins with fundamentals and our foundations program is a practical entry into the world of martial arts that cannot be found anywhere else. Students leave each class with skills they can immediately apply as well a smile and a dash of sweat.
Schedule an appointment today
Our coaching is based on academically verified teaching methodologies that make classes engaging, fun, and above all meaningful. Our coaches are dedicated to proving to you that you are capable of more than you realize.
Our culture is one of friendship and assistance. Surround yourself with the people who want to see you succeed both on the mat and off the mat!
SBG New BRAUNFELS Testimonials
We entered both our daughters this year. They both have loved everything about their classes. Great instructors, amazing lessons on techniques and defense. Our goal was that our girls will learn to defend themselves and learn the culture of the martial arts. We are very pleased with the results we've seen so far. But most importantly, our girls absolutely love it! Thank you SBG!
I absolutely love coming here and felt that way ever since the trial. The atmosphere was way different than other gyms I tried. Everyone is friendly and willing to help and teach you; especially, Coach Michael. Really great team and family atmosphere and what I enjoyed most is that they teach you how to handle situations intelligently not just with brute strength.
My husband and I just recently enrolled our two younger children in the Micro Monkey class and they love it! The instructors are great with the kids and use an approach that is understandable and fun for the kids! We shopped around at several different facilities and none of them fit the needs that this facility provides. The facility is clean and the staff is very welcoming!
Integral Academy of Movement
Absolutely incredible people running this school. Kaylee and Michael do such a great job of making everyone feel welcome and comfortable. From the novice to the well seasoned, everyone has a place at SBG. You won't regret walking through those doors.
SBG Texas is an incredibly welcoming gym with professional, knowledgeable, and kind staff. New members begin at a pace appropriate to their level and the coaches ensure everyone is learning through thorough demonstration and high repetitions of the movements. The general feel of each class is family-like with some humor added in but always high quality instruction. You will learn something useful every day.
Fantastic gym! Clean and well run. The owners are amazing! My son just started but jujitsu feels like it's exactly what we needed. Not only learning martial arts but life skills as well. Can not say enough.
Started my daughter out here and she loves it and has progressed a lot. I decided to try for myself and had a great time! Even though I was New I was made to feel welcomed. Coach Michael and Kaylee are awesome!
We got a free class to see if my son like it before signing up, and Emily and the instructors were very nice and welcoming. Emily showed us around the facility and everything was very clean, im so glad we found this place, I recommend it, the kids have fun and learn a lot.