KIDS JIU JITSU CLASSES Ages 7-9 IN NEW BRAUNFELS
For more information on our classes, contact us today
Using Discipline and Fun to Improve Focus and Confidence
Discipline for 7-9 year olds tends to focus on the curbing of back talk and general aspects of being respectful to coaches and other students. Kids at this age are intellectually maturing to the point of recognizing imperfections inherent in classroom settings but still lack the maturity to accept those imperfections as inherent factors so they tend to speak out of turn. We don't allow back talk and look to correct it with a reasoned explanation of why it is inappropriate. The goal is to subdue the child but increase their awareness and maturity so that they can grow in classrooms despite the imperfections they accurately perceive. Long term this will enable them to thrive in high school and work environments wherein there is inevitable inefficiency as a result of human beings working together accommodating needs that go beyond the individual's interests.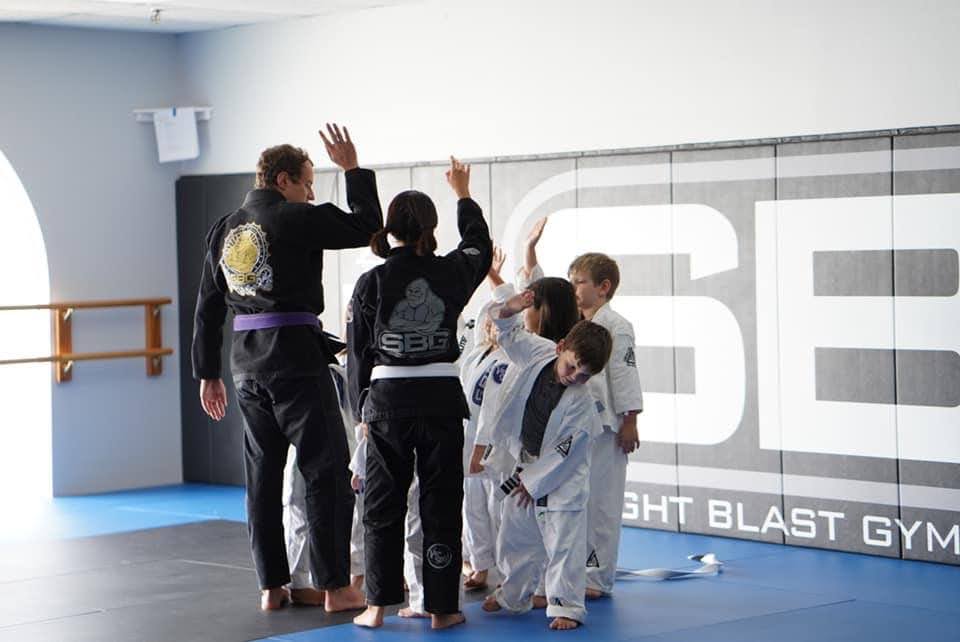 jiu jitsu Teaching Methodology Ages 7-9
Our teaching methodology is based on sound pedagogical principles as our head coaches both have degrees in education.
For 7-9 year olds, we are able to combine a focus on underlying movement and build competence in Jiu Jitsu techniques. This age range is often the most motivated of groups because they are becoming physically sophisticated but still possess the abundant enthusiasm that is the hallmark of childhood. 
Our goal every month is for the students to be highly proficient with three major Jiu Jitsu moves. One takedown and two ground techniques, one of which being a submission typically. Games with a focus on technique utilization or games that require repetition of technique form a considerable portion of class time.
Kids don't get tired, they get bored
Fun and games are the critical component that makes any repetition possible. To excel at the technical art of Jiu Jitsu, it must be packaged to kids in a way that engages their sense of play and competitiveness. We use an ever-rotating number of games with differing technical aspects to keep kids learning new skills without overtaxing their ability to focus. We practice active gamification of all aspects of Jiu Jitsu so that motivation is never a problem for our students.
While storytelling and simple task completion lie at the heart of teaching 7-9 year olds important life skills, we also do deep discussions on these topics to help them process values intellectually. Some of our discussions often have adult heads nodding in surprise at the profundity with which children at this age are able to understand complex concepts.
Why is SBG Jiu-jitsu right for your kid?
Your child deserves to feel safe.
Nothing can make a person feel safer than the knowledge that they can protect themselves. Give your child the ability to defend themselves and watch their confidence soar.
Behavior management Issues
We need to evaluate this on a per child basis, so we recommend trying a class for free and seeing how that works out. In general one of our big goals is to teach students how to thrive in a structured environment so we expect students to be rough around the edges when they begin.
We do not possess specialized knowledge for dealing with ADHD children or other high needs children. Without taking a class we cannot vouch for the appropriateness of any number of special needs students thriving within our program. We are open to such possibilities but must evaluate students to determine if their needs can be met in our program.
Schedule An Appointment Today.